Description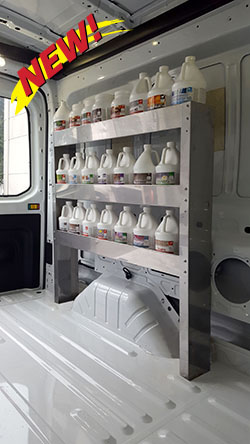 HydraMaster is proud to announce our new three tier over the wheel well chemical shelf designed specifically to utilize the additional height of the Ford Transit, Dodge ProMaster, and Nissan CV vans.
Fits over the wheel well of the new unibody vans
Manufactured using heavy duty stainless steel for maximum corrosion resistance
Attaches to both the vans floor and sidewall for maximum stability
Higher bottom shelf allows for spotting kit or tool storage on the van floor below the first shelf
Rounded corners for safety
Designed to hold up to 8 one gallon containers per shelf (24 Total)
Each shelf has 4 inch lips to ensure product stays organized and in place
Shelves are height adjustable to allow for items larger than standard one gallon container
Takes advantage of higher roofs for more storage space
Can also be used to store tools, brushes and more!
Part # 000-163-118
Available for orders and shipment now!